I will be spending part of this long weekend in Kansas City, MO for one of college roomies' wedding (Congrats Jess and Luke!). I was wondering what I would wear until I received an email this morning... 40% off one full-price item at Banana Republic. Score.
I looked with the thought that I need some more work items. However, that objective fell by the wayside when I came across this beautiful yellow dress.
After visiting three BR stores on Michigan Avenue, I finally found it! (Yes, there are 3 BR stores within 3 blocks of Michigan Avenue. Ridiculous store planning Gap Brands - move one of those suckers to the Loop, where your target market works. I know I can't be the only girl that shops on her work lunch break...)
Here is what I have put together so far:
Kansas City Wedding Inspiration
by
hargrove
Only thing is that I am missing a black statement necklace. If only I would have received this email earlier I would have ordered one of Jill from
Classy With A Kick
's
lace necklaces
. How perfect would the below necklace have been in black?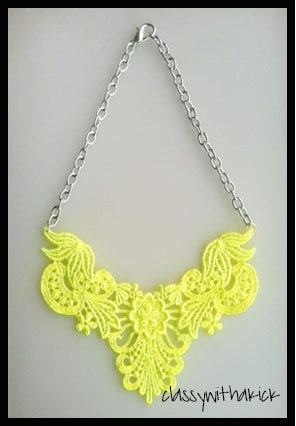 Better late than never... For only $20, I just ordered mine in black and the yellow above. Double score.